Butcher knives are typically found in butcher shops and restaurants. However, they also make a great addition to any home kitchen. If you ever cut, separate, or trim large pieces of meat, then you need a butcher knife.
My Top 3 Butcher Knives

What exactly is a butcher knife? What else can you use it for? How do you sharpen it? What do you look for when you shop for your very first butcher knife? This guide will answer all these questions, plus take a look at the best seven butcher knives for you to consider.
Butcher Knife Buying Guide
Before you look around for the perfect first butcher knife, you should know what you're looking for. Don't just settle for any butcher knife. You should focus on two aspects of the knife: the blade and the handle.
The blade of a butcher knife is usually curved, but some models may also have a straight blade. Either type will be effective for cutting meat, but curved is better for boning, while straight is better for cutting and getting between bones.
A curved style also takes some getting used to and requires a different technique. The type you choose will depend upon your personal preference and specific needs.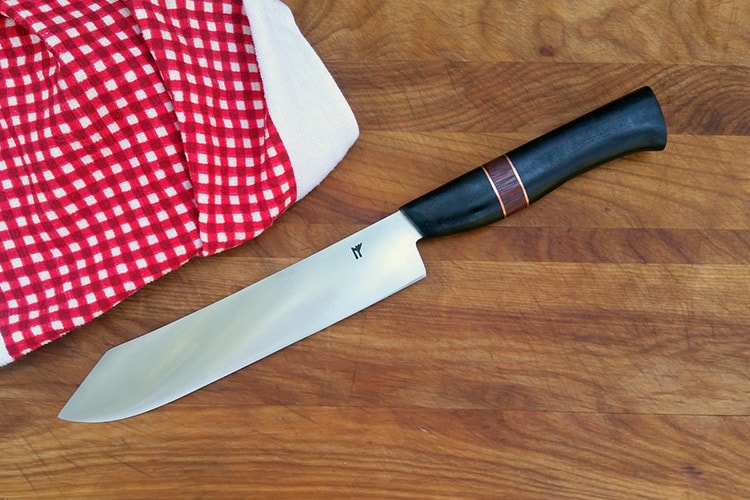 There are various materials that may be used to form a butcher knife blade. They generally come in two types of blades: stamped and forged. Stamped blades are made of stainless steel. They are lightweight and cheaper, but will not be as durable. Forged blades are made of heavier steel and hand-forged. They are stronger and more durable but may cost more. Most professional butcher knives feature forged blades.
The handle of your butcher knife should be comfortable to hold and easy to use. It should have a secure grip. Make sure that you can comfortably use it for long periods of time and apply a decent amount of pressure.
Also, pay attention to the durability of the handle. Wooden handles generally absorb more moisture than synthetic handles, which will reduce the lifetime of the handle and the knife as a whole. If you do go for a wooden handle, make sure to keep it dry at all times to prevent rusting of the blade where it attaches to the handle.
Best Butcher Knife
These are our top picks for best butcher knives for your kitchen.
---
The Butcher's Breaking cimeter Knife from Dalstrong is strong and elegant. It features a 10-inch curved blade, which creates leverage and allows you to quickly and efficiently cut through any type of meat.
The blade is made of German high-carbon steel and has rock-hollow divots, which reduce resistance and allow for clean cutting. The black Pakkawood handle features an ergonomic design. Sturdiness is provided with the full tang and triple rivets.
Pros:
Strength comes from high-carbon steel, which also helps to prevent rusting.
The long 10-inch blade allows for complete cutting of most pieces of meat.
The curve of the blade provides versatility in cutting.
Rock-hollow divots keep meat from tearing or getting stuck on the blade during cutting.
The handle is smooth and fitted for most hands.
The full tang and triple rivets give the knife added strength and stability.
Cons:
The pakkawood handle can absorb moisture and contribute to rusting of the blade.
The full tang of the blade extends beyond the handle, causing discomfort when using the knife.
The bolster is large and includes a sharp edge. This makes it uncomfortable and even dangerous to hold the knife for too long.
$90.00 from Amazon
---
The Heavyweight Butcher's Knife from Global is sleek and sturdy. This Japanese style blade is heavier than most butcher knives, which adds to its stability. It features a seven-inch blade and an attractive dotted pattern on the handle, which is made of the same metal as the blade.
Unlike most knives, it doesn't have a separate handle attached to the blade; rather, the knife is made of one long piece of stainless steel. The handle is hollow and filled with sand for balance. The dotted pattern provides a non-slip grip and the handle is molded for comfort.
Pros:
The heavy stainless steel provides strength and sturdiness.
A dotted pattern on the handle allows for a secure grip.
The handle is smooth and comfortable.
The sand inside the handle provides balance.
It retains its edge well, but should still be sharpened about once a week.
Cons:
The lack of a separate handle means that the knife may rust easier. There is no material protecting the metal, so you will need to thoroughly wash and dry the knife immediately after use.
The thicker blade is not ideal for thin or fine cuts.
It can seem a bit too small for some jobs.
$134.95 from Amazon
---
The cimeter Breaking and Butcher's Knife from Ergo Chef is durable, balanced, and comfortable. It features a 12-inch curved blade, which is made from high-carbon stainless steel and sharpened to an 18-degree angle.
The black handle is textured and comfortable to hold while providing a secure grip. The blade is attached to the handle with a full tang. The handle includes a finger guard to protect your fingers during use.
Pros:
The long 12-inch blade can handle any type of meat you need to cut or trim.
High-carbon stainless steel will not easily rust, stain, or otherwise corrode.
The edge is sharpened to an angle of 18 degrees, which gives it a very sharp edge.
The black synthetic handle is durable since it doesn't absorb moisture.
The handle is comfortable to hold and textured for a secure grip.
The full tang provides stability.
A finger guard protects your hand while cutting.
The edge is easy to sharpen.
Cons:
The knife may be too large for those with smaller hands to use.
It can seem heavy and unwieldy.
It can also seem flimsy, which can become dangerous during use.
$29.99 from Amazon
---
The Ontario Butcher Knife from Old Hickory is simple but useful. The 10-inch blade has a straight edge, only curving slightly at the end. The blade is made of high-carbon steel, and is heat-treated and tempered for a sharp edge. The hardwood handle is rectangular and simple, attaching to the blade with the use of brass compression triple rivets and a full tang.
Pros:
The simple design will accommodate any kitchen.
The straight edge is useful for cutting and getting in between bones.
High-carbon steel can resist rust and corrosion.
Stability and durability are provided in the heat-treated, tempered edge.
Brass triple rivets and full tang construction provide sturdiness.
The 10-inch blade can handle most large pieces of meat.
Cons:
The hardwood handle absorbs moisture, which can rust the blade.
The lack of a curved blade makes the knife less versatile.
The blade is too thick for thin slicing.
It doesn't retain its edge very long and needs frequent sharpening.
It cannot easily cut through difficult pieces, such as pork belly or anything with plenty of fat.
The handle is not very comfortable, especially after heavy use.
$22.97 from Amazon
---
The Butcher Knife from Hoffritz Commercial is strong, durable, and comfortable. It features a 10-inch curved blade made of semi-polished, high-carbon German steel, which is both strong and long-lasting. The black handle is made of nylon and silicone and features an ergonomic, textured grip.
Pros:
The 10-inch blade can cut even the largest pieces of meat.
High-carbon steel resists corrosion, stains, and rust.
Strength is provided in the German steel construction.
The synthetic handle gains durability from the nylon and comfort from the silicone.
A textured grip on the handle provides a non-slip grip.
Cons:
The knife is too big and unwieldy for smaller hands.
The handle can get in the way when cutting or chopping on a cutting board.
The handle feels bulky.
from Amazon
---
This Butcher Knife from UltraSource is versatile, balanced, and safe and easy to use. It features a 10-inch curved cimeter blade made of high-carbon steel, which allows you to break up large cuts of meat or conduct intricate trimming jobs.
The handle is a bright, hard-to-miss orange, and textured for a secure grip. It is antibacterial-infused and liquid-welded to the blade. Front and rear bolsters provide safety and balance.
Pros:
You can handle any job, big or small, with the 10-inch cimeter blade.
The handle is bright, textured, and enhanced for safety.
It's easy to use and clean.
Balance is provided by the two bolsters, one in front and one in back.
The bolsters make using the knife safer.
High-carbon steel construction helps to resist rust.
Cons:
The blade doesn't hold its edge for long and needs frequent sharpening.
$20.84 from Amazon
---
The 10-Inch German Steel Cimeter Butcher Knife from Update International is strong, versatile, and safe to use. It features a 10-inch curved blade made of high-carbon German steel and a white non-slip handle.
Pros:
High-carbon German steel will not easily rust and provides strength.
The 10-inch curved blade can handle any cutting task.
The handle is attractive and comfortable to use.
The non-slip handle promotes safety in the kitchen.
The blade is flexible, but not flimsy.
Cons:
The thin blade requires more force behind it.
It doesn't hold its edge very well and needs to be sharpened often.
The handle is too thick and bulky for those with smaller hands.
$13.64 from Amazon
---
What is a Butcher Knife?
A butcher knife is a large knife used for cutting meat. It features a wide blade with a slight curve. This helps when cutting through large pieces of meat.
Many models also feature granton edges, which allow air to flow between the blade and the meat. This keeps food from getting stuck on the blade and prevents tearing and shredding of meat.
What is a Butcher Knife Used For?
Historically, butcher knives were relied upon by mountain men. They were used for a wide variety of purposes, including:
Hunting
Skinning and dressing of animals
Cutting food
Self-defense
Scalping
In modern times, butcher knives are primarily used to cut and dress meat. In addition, they have many specific purposes, such as:
Separating large pieces of meat
Skinning animals while hunting
Dressing animal carcasses after a hunt
Trimming fat and skin off of meat
How to Sharpen a Butcher Knife
There are several ways to sharpen a butcher knife. You can use a sharpening stone, sharpening steel, or an electric knife sharpener.
The best sharpening stone to use would be a diamond-edged stone. Ceramic stones are also a good choice. Sharpening is done at an angle of 20 to 30 degrees. Slide the stone along the entire length of the knife. You may need to do this seven or eight times on each side. Certain types of stones may require extra pressure to sharpen the knife.
If you choose to use a sharpening steel, hold the knife at a 20-degree angle to the steel. Swipe the blade across the steel by holding the steel in one place and pulling the knife back towards you. This should be done a few times on each side.
Using an electric knife sharpener is the easiest methods for most beginners. Simply pass the knife through the device, similar to swiping a credit card. Repeat two or three times on each side.
A Butcher Knife is Not Just for Butchers and Professional Chefs
Though you don't find it in every kitchen, there are many home chefs who can benefit from having a butcher knife. For anyone who cuts up meat, poultry, or fish, it can be a versatile and invaluable tool. Most butcher knives are easy to sharpen in a variety of ways.
There are many different models of butcher knives available. They vary from long, elegant knives that add to the beauty of a kitchen, to smaller and simpler knives that are purchased for their usefulness. By knowing the size that you can use comfortably, the blade style that you prefer, and the look that appeals to you, you can choose the perfect butcher knife for your kitchen.
Last update on 2023-02-07 at 02:58 / Affiliate links / Images from Amazon Product Advertising API. As an Amazon Associate I earn from qualifying purchases.