If you're a serious hunter, you know how important it is to have high-quality knives at your disposal. In particular, having a reliable skinning knife is vital, since these tools almost single-handedly transition your game to your next meal.
My Top 3 Skinning Knives

I've gone through a couple of skinning knives over the years with a wide breadth of experiences. One thing is for sure though, without using a quality skinning knife, a successful outdoor adventure is nearly impossible.
In this article, we'll delve into some of my favorite skinning knives on the market today. I'll also go over some careful factors to consider when picking out the best skinning knife for your needs.
Let´s Find Out Together What Makes a Great Skinner Knife
Without further hesitation, here are my favorite skinning knives available online today.
---
This hunting knife is probably one of the classiest blades around with its dual-toned blade and guard. The wooden rustic handle is ergonomically curved to fit soundly in your hand, allowing the blade to feel comfortable even with prolonged use.
This knife is about 7 inches long and comes with a custom sheath. I love that these blades are made in the USA ensuring top-notch quality with every purchase. The brass handle bolster is a nice touch as well.
Pros:
Made in the USA blades
Fixed point knife
Rustic wood handle
Compact skinning blade
Cons:
May be limiting for use on smaller game
Wooden handle must be carefully dried to retain quality
$79.99 from Amazon
---
For a more compact solution, check out this folding knife by Havalon. The stainless steel blades run about 3-inches long, allowing for this foldable blade to easily fit in your pocket or backpack. You'll also get a custom nylon holster with your purchase for additional storage options.
Best of all, this knife comes with replacement blades so that you'll be able to continue using your set even if your initial blade wears down. I love the vibrant orange color option, making this blade super easy to find in a crowded backpack.
Pros:
Included nylon holster
Foldable blade
Included replacement blades
Stainless steel construction
Cons:
Small blades may be limiting for larger game
$39.76 from Amazon
---
Victorinox is known for making high-quality products, and this skinning blade is no exception. The compact 5-inch blade is fixed, yet curved, making it perfect for producing the clean cuts you need. The knives are made in Switzerland with high standard stainless steel ensuring top-notch quality.
I love the rustic wooden handle and the lasered blade icons of this knife. Overall, this is an excellent, easy-to-sharpen skinning knife that you're sure to enjoy for a number of years.
Pros:
Curved blade
Fixed construction
Rustic wooden appearance
Stainless steel blade
Cons:
No included sheath for easy storage
$36.49 from Amazon
---
This knife is sure to stand out amongst the crowd with its ornate handle design and handmade crafted sheath. The blade itself is just over 6 inches and is about ⅛ of an inch thick. The stainless steel construction allows this knife to stay in tip-top shape even with regular use.
Best of all, this blade has a full tang making the knife very well-balanced despite the modest price point. Overall, this unique knife is great for skinning and makes a great gift for outdoor enthusiasts as well with its standout design.
Pros:
Ornate handle
Handmade custom sheath included
Stainless steel blade
Full tang blade
Cons:
Blade is not curved which may make some cuts difficult
$14.99 from Amazon
---
This drop point skinner blade is the perfect all-purpose tool for all of your hunting needs. The corrosion-resistant design allows this knife to work perfectly, even in more extreme weather conditions. I love the classic brass appearance of the bolster, and the slight deliberate curve of the wooden handle fits comfortably in my palm.
The blade itself is about 7 inches long and is made in the USA promoting top tier quality design. You'll also get an included holster with your purchase, allowing you to easily hold your knife around your waist when not in use.
Pros:
Made in the USA
Classic appearance
Holster included
Brass bolster for ease of use
Cons:
Larger blade may be more difficult to store properly
$79.99 from Amazon
---
This knife gives you the best of both worlds with two knives in one. The compact design allows this blade set to only measure a collective 8 inches, for simple storage in your bag. I love how you're given both a straight and curved edge blade for maximum flexibility. Best of all, there's also a serrated section of the knife allowing you to make minor saw cuts.
The rubberized handle won't slip in your hand during use, and you're also given an included belt holster for easy storage while on the go. Overall, this is an impressive multi-tool with great skinning capabilities.
Pros:
Two blades in one
Straight and curved blade
Included holster
Compact design
Cons:
Unique shape can be difficult to store
$59.95 from Amazon
---
This small but mighty hunting knife certainly has a unique look to it, but don't be deterred— it is just as capable, if not more capable than other more traditional hunting blades.
The 3.5-inch blade is perfect for skinning with its sturdy construction and features an ending gut hook for added hunting capabilities. The stainless steel blade comes with its own custom hilt, so you can keep your knife properly stored when not in use. I love the camo curved handle as an added bonus.
Pros:
Included gut hook
Perfect curve for skinning
Sturdy construction
Unique blade to add to your collection
Cons:
Not the best multi-purpose knife with its hunting-specific features
$11.95 from Amazon
---
This professional knife is perfect for users serious about hunting. The fixed point blade is well balanced and has everything you need to properly skin game. Each of these blades comes with an included custom sheath and lanyard hole making for easy storage.
The overall blade is about 8 inches long making this a great knife for larger catches. I love how obviously well-made this knife is. You're sure to enjoy using this fixed blade for a variety of uses for years to come.
Pros:
Included custom sheath
High-grade steel
Fixed blade knife
Great multipurpose knife
Cons:
Straight blade may be limiting for some skinning jobs
Large blade can be difficult to store
from Amazon
---
This razor-sharp blade is the perfect hunting companion. I love that this knife is made in the USA and backed by a lifetime warranty—you'll have no doubts while making your purchase. This knife is equipped with full tang construction allowing the blade to stay well balanced.
With its slight curve, the fixed blade is fully optimized for proper skinning. You're also given a genuine leather sheath with your purchase allowing for easy storage. The glossy handle is also as stunning as it is comfortable to use.
Pros:
Slightly curved blade
Full tang construction
Included warranty and sheath
Made in the USA
Cons:
Extra-long knife may not be ideal for smaller cuts
from Amazon
---
For a more versatile solution, you may want to opt for a full kit instead of a single blade. This master kit comes with 3 different hunting knives complete with a Skinner, Caper, and Guthook. The lightweight, surgically precise blades are compact enough to fit in the included sheath and are made in the USA ensuring top-notch quality.
Each blade is made out of high-quality stainless steel for ease of use. Best of all, these knives are backed by a lifetime warranty so you'll be able to get a new set should you notice your blades wearing over time.
Pros:
3 piece knife set
Stainless steel construction
Made in the USA
Backed by included warranty
Cons:
May be more difficult to carry around as a full set as opposed to one blade
from Amazon
---
If you're looking for a skinner knife with impressive functionality and beautiful design, this is the blade for you. The handmade knife features an ornate swirl pattern of the reinforced steel that is sure to stand out from the other knives in your collection.
I love how the blade is acutely pointed at the end making this blade great for gutting as well. You'll also get an included leather sheath with your purchase allowing for easy storage. Overall, this ornate blade is perfect for skinning and keeping on display when not in use.
Pros:
Unique design
Handmade blade
Damascus steel construction
4-inch blade
Cons:
May be heavier than other skinner knives
from Amazon
---
What is a Skinning Knife Used for?
So, why exactly would you need a skinning knife in the first place? Here are a couple of common uses for skinning knives :
Skinning
As you might have expected, skinning knives are used to separate the meat from the skin of the hunted game. However, unlike other knives, these blades are specially crafted to keep the meat of the game fresh and clean.
For example, a drop point fixed skinning knife won't puncture through certain membranes of the hunted game during the skinning process to keep your meat fresh and clean.
Gutting
Some skinning knives have the added bonus of gutting or puncturing features, usually towards the endpoint of the blade. These helpful points will help you seamlessly remove unwanted organs from the body of an animal so that you can get to the valuable meat more efficiently.
These gutting features are often curved at the top of the blade so that the exaggerated points or hooks do not interfere with the rest of the skinning process when not in use.
Gutting features aren't just for hunters. If you're a fisherman, you're likely to find a myriad of uses out of these handy hooks.
Slicing
Skinning knives can also be used as an excellent slicer if you're ever in a pinch since they are designed to cut through thick animal skin. Fixed or drop point blades are probably the best for this since they have an easy straight edge your hand can easily conform to.
Having a knife set made specifically for hunting is important since hunting and skinning blades are typically made sharper than your usual blades. While any blade can be extra sharp when made out of high-quality materials and properly maintained, having a hunting-specific set will give you the edge you need to cut through coarse animal skins.
How to Use a Skinning Knife?
While it's difficult to generalize skinning knives due to a wide variety of shapes and sizes, here are some general tips on how to use a skinning knife.
Figure Out Your Process
Most hunters have a specific process that they use while properly preparing game after a hunt. While some people prefer to begin incisions around the head, others would rather work from the underside up when it comes to fixing up hunted meat. In any case, try your best to figure out your general hunting process first in order to guide you to the most appropriate skinning knife.
Your process might change over the years as well depending on how you use your blades and what game you go after in a specific period. Don't be afraid to change the way you hunt, but also recognize that occasionally this evolution will require you to adopt new tools.
Use Your Online Resources
Hunting is an endless art that can always be improved. Make sure you use your full scope of online resources to help properly guide your cutting process. YouTube has tons of free videos available showing specific skinning processes if you don't know where to start. A quick Google search as well will also yield tons of free step-by-step guides for using a skinning knife properly.
In any event, remember that practice makes perfect applies even to the use of hunting tools. Even the most advanced outdoorsmen started out clueless, so you will definitely master using your new skinning blade in time.
Understand That a Skinning Knife May Not Be Enough On Its Own
While skinning knives are great for seamlessly separating the meat from the skin of the game, it's important to recognize that these knives alone are not a substitution for a full hunting knife set. You'll probably find yourself needing to dismember some animal bones, for example, to get full access to the meat.
While skinning knives can help make initial incisions and separations, you're likely to need a more heavy-duty, serrated sawing blade for cutting through bones and other common tasks you'll come across while hunting.
Types of Skinning Knives
Within skinning blades, there are a couple of different knife types. Here are the 4 main types of skinning blades each with their own set of strengths and weaknesses.
Bowie Knives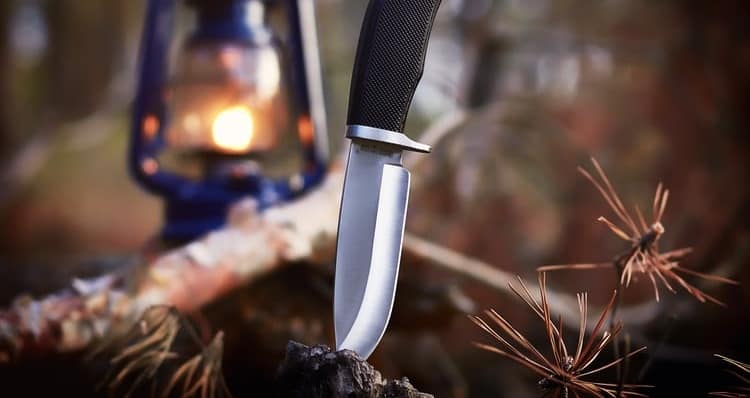 Bowie knives are famous for their super-sharp long blade and the upright, curved spine. These blades are usually more than 5 inches long, so they're probably not the best pick if you're consistently hunting smaller-sized game.
However, if you're a sport hunter commonly looking for say, deer, for example, a bowie knife might be the perfect addition to your blade collection. These knives also have a rich history that makes them a worthwhile, unique addition to your knife set.
Folding Blades
Folding or multi-purpose blades can work surprisingly well as skinning knives if used by an experienced hunter. These knives are characteristically small and flexible which may also make them great deboning tools.
Best of all, they fit conveniently in your backpack or pocket for easy use. However, a folding blade alone is not well-suited for larger game. Above all, these knives prioritize convenience.
Spear Point Knives
Spearpoint knives feature a symmetrical blade that lines up at a fixed, usually pointed endpoint. This double-edged blade is perfect for cutting through thick hides in an upward/downward motion making spear point blades a valued tool on its own.
Drop Point Knives
You're likely very familiar with drop point knives as these knives feature a fixed blade and a firm grip ending at a single point. Most all-purpose knives are constructed this way, making this a great blade type to start out with, especially if you're new to the world of hunting. Drop point blades also won't puncture stomach membranes found in most games, allowing you to keep your valuable meat adequately clean.
However, don't make the mistake of using your hunting-specific drop point blade for regular use. Using these knives to cut twigs or woods, for example, can easily damage your skinning blade. Like other skinning knives, these versatile blades are made to slice, not necessarily saw.
Factors to Consider
Are you still unsure which skinning knife is the one for you? Here are a couple of factors to take into consideration when picking out the best skinning blade for your needs.
Blade size
Skinning knives come in a wide variety of shapes and sizes, so it's important to consider your ideal blade size when picking out a knife suited for your needs. Try to think about what types of games you usually hunt. A larger skinning blade is going to be useless if you're commonly skinning smaller animals, so make sure you select blade size appropriately.
Weight
Larger knives can be great for larger catches, but they can also weigh you down quite a bit. Look out for knives that have blades without full tang if you need a lightweight solution. Though the knife will be less balanced, looking for these types of knives can be a great solution for advanced hunters.
Blade Type
As shown above, there is a wide array of skinning blades available in terms of blade type alone. It's a good idea to read up on the purpose of each specific knife blade before purchasing your skinning knife in order to get the best one possible for your needs.
Storage
Since skinner knives come in a bevy of different shapes and sizes, make sure you have proper storage to accommodate your unique blade. Many of these knife options come with a custom holster or sheath with your purchase, so be sure to keep an eye out for that as well.
Sharpness
If you're looking for a skinner knife to do some initial cutting as well as slicing, you'll definitely want to pick out a sharp blade. However, it's important to note that any knife, regardless of initial quality, will likely need regular sharpening to stay in optimum shape.
Durability
The great outdoors can be hard on anyone and anything, including your new skinning blades. Make sure you opt for a knife made out of durable materials to get the most bang for your buck.
Serrated Sections
While you'll mainly use skinning knives for slicing, it may be worth your while to look out for a blade with serrated sections. These sections will allow you to appropriately split through a rib cage of the game, for example, adding to the single blade's value.
The Best Skinning Knife Is A Valuable Asset
Even if you usually rely on a single fixed blade or all-purpose knife, having a skinning blade can significantly improve the way you hunt and prepare meat on a regular basis. Unlike other regular knives, these blades are carefully crafted to separate the meat from the game without damaging the end product itself.
Hopefully, this article brings you one step closer to finding the best skinning knife for your needs. Remember, every blade and blade user is different, so it may take a couple of tries to find the perfect knife for your needs.
Enjoy using your new skinning knives to elevate your hunting technique and produce fresher, the cleaner game each and every time.
Last update on 2022-10-06 at 05:08 / Affiliate links / Images from Amazon Product Advertising API. As an Amazon Associate I earn from qualifying purchases.