The Kris dagger, otherwise known as the Keris, is a beautiful, unique blade that makes a valuable part of any knife collection. Though you probably won't use these gorgeous knives on a regular basis, their distinct asymmetrical appearance makes the knives well-worth having on hand.
My Top 3 Kris Daggers

Unlike traditional knives, Kris daggers are all distinct in their own rite. No two Kris blades will look the same, so they're bound to get the conversation rolling around any serious knife enthusiasts.
Below, I'll go over some of the best Kris daggers that 2023 can offer. With a variety of styles, sizes, and unique knife designs, you're sure to fall in love with any of these 5 superb picks.
Top 5 Kris Daggers
Here are the top 5 Kris daggers for knife hobbyists and enthusiasts alike.
---

This ornate fighter knife doubles as a Kris dagger with its characteristic asymmetric appearance. The unique blade is forged with a carbon, nickel, and steel blend giving it a unique naturally swirled look.
This blade is sure to be a conversation starter with its partially jagged blade design. Notably, this Kris dagger also has a super sharp pointed edge making it great for use as a utility tool. The wooden handle is engraved with natural grooves, giving this knife an easy-grip design as well as a rustic, classic feel.
Notably, this multipurpose dagger also comes with a gorgeous leather sheath that protects your knife properly with embedded sturdy snaps. Overall, this knife is extremely sturdy and versatile.
Pros:
Super sturdy carbon, nickel, and steel blend
Multipurpose blade
Included leather sheath
Unique jagged knife design
Cons:
Knife is more expensive than other options on the list
$210.00 from Amazon
---

This steel Kris blade is a truly dashing blade to add to your collection. The unique corkscrew blade design gives this knife an incredibly beautiful appearance, especially with its naturally swirled metal pattern.
The knife is made with carbon steel and nickel making it extremely sturdy and built to last for years to come. In fact, it has an impressive hardness of 60 HRC. This tri-dagger also comes with a thick, cowhide sheath to properly protect the blade when not in use.
This Kris blade is truly a work of art and will make a great addition to any collection. You're sure to love the rounded, swirled design and weighted feel of this knife.
Pros:
Impressive 60 HRC
Included sturdy leather sheath
Tri-blended dagger
Carbon steel and nickel blend
Cons:
Unique corkscrew design may make this blade challenging to use
from Amazon
---
This beautiful Kris knife is handcrafted in the Philippines, giving it an extra layer of authenticity. The sleek, jet black sheath will keep the knife properly protected for years to come with its included snaps and air-tight design.
Underneath the sheath, you'll reveal an asymmetrical blade made out of sturdy metal. With its two-toned appearance ending in an expertly rounded tip, you won't want to put this gorgeous blade away. Plus, the blade is fixed with an easy-grip ergonomic handle for ease of use. Something about the way it feels in the hand makes you not want to put it down.
Overall, this is a great Kris knife for the price that comes with a sheath to protect your investment properly. You're sure to love the beautiful appearance of this blade combined with its superior sturdy construction.
Pros:
Unique two-toned metal
Included black sheath
8-inch long asymmetric rounded blade
Cons:
Rounded tip may limit some applications
from Amazon
---

This handmade fighting knife has all the beauty of a traditional Kris dagger. With its classic asymmetrical design, this blade feels truly authentic.
The fighting knife is handcrafted and forged out of a high-quality carbon steel blend making the blade extra sturdy for practical, regular use. This fighting knife measures about 14-inches long and has an ergonomic handle for a comfortable, easy grip.
Overall, you'll love the look and feel of this unique asymmetric blade. The forged metal combined with the classic wooden feel of the handle makes this knife a great addition to any serious knife collection.
Pros:
Ergonomically curved handle
Handcrafted blade
Lengthy, 14-inch knife
Versatile, practical design
Cons:
Needs to be properly cleaned and dried to prevent rusting
from Amazon
---

Looking for an ultra-portable Kris style dagger? In which case, this boot knife is the perfect pick for you. The blade only runs about 6-inches long making it perfect for versatile indoor and outdoor use.
The carbon steel blade is super sturdy and forged with a deep ebony wooden handle. Plus, this blade has full tang construction making it well balanced for everyday use.
Overall, this is a beautiful, affordable blade that serves as a great portable addition to any serious knife collection.
Pros:
Sturdy carbon steel blade
Compact 6.5-inch blade
Affordable Kris Dagger
Comes with light boot sleeve
Cons:
I found the included sheath somewhat flimsy
from Amazon
---
What Is a Kris Dagger?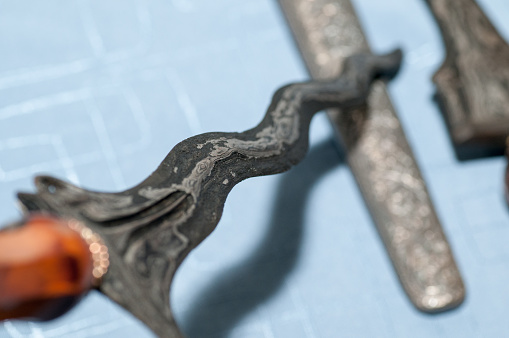 If you're looking to purchase a Kris dagger, it pays to understand the rich history behind the blades. The blades originally stemmed from parts of Malaysia, the Philippines, and Indonesia. The beautiful blades were used for ancient rituals, in martial arts, and also used as a weapon.
What Is a Kris Dagger Used For?
Though it was originally used as a spiritual item or as a weapon, Kris daggers can now serve as fully-functional outdoor and indoor knives. At the very least, they make unique additions to any collection with their distinctive asymmetric appearance.
What Was the Purpose of the Wavy Edges of the Kris?
As you can see, Kris daggers are curved unlike any other. This is because it was believed that each wave inflicted more damage to victims back when the knife was used as a weapon. Nowadays, the Kris dagger has retained its classic appearance but is used for entirely different reasons.
Kris Daggers Are Truly Unique
Kris daggers are certainly a unique blade to add to your knife collection. With their beautiful, asymmetric appearance and versatile designs, you're sure to love adding any one of these 5 excellent picks to your set. Enjoy all of the heritage and beauty that comes with these sturdy Kris daggers.
Last update on 2023-02-06 at 23:09 / Affiliate links / Images from Amazon Product Advertising API. As an Amazon Associate I earn from qualifying purchases.