Storing your knives is probably one of the most important aspects of keeping your collection in tip-top shape. While a traditional knife block is great, sometimes they can be clunky and take up too much counter space, especially if you're not utilizing all of the block's slots.
My Top 3 Magnetic knife Strips

I've recently adopted a magnetic knife strip for an alternative storage solution and I am incredibly impressed. The strips not only hold up well, but they keep my knives organized in a way that I can fully see what tools I have available.
In this article, we'll go over some of my favorite magnetic knife strips out on the market. Finding the best magnetic knife strip can be difficult, but great ones are out there. Let's get started.
Best Magnetic Knife Strips
Here are the latest and greatest magnetic knife strips out on the market today.
---
This walnut magnetic knife strip is as classy as they come. Its neutral color is sure to fit nicely in a variety of style environments—I know I love the way it looks in my kitchen. This magnetic strip is made in the USA ensuring top-notch quality.
The secure mounting system is sure to keep your knives in place. Plus, with versatile sizing options ranging from 8 to 36 inches and custom sizes, you're bound to get a piece perfect for your needs.
Pros:
Custom sizing options
Made in the USA
Sleek Finish
Strong construction
Cons:
The backside is not magnetic, requiring manual mounting
$39.00 from Amazon
---
For a more modern look, check out this knife strip by Modern Innovations. The knife bar is made out of stainless steel for a sleek, clean appearance. The strip itself is about 16 inches long and can fit a full set of knives.
Notably, the magnet is double-sided so you can stick this bar right on your fridge for an easy installation. Some users enjoyed using this bar to organize arts and crafts supplies as well, making it very versatile.
Pros:
Sleek construction
Versatile uses
Double-sided magnetic strip
Modern look
Cons:
Lack of flexible sizing options
$19.49 from Amazon
---
For a more compact version, check out the 10-inch stainless steel bar by modern innovations. The super sleek metal bar can hold your most precious knives keep your kitchen clutter-free.
This kit includes mounting hardware so you'll be able to set it up in no time at all. The compact size is perfect for apartment living.
Pros:
Compact size
Super-strong magnet
Easy installation
Sleek appearance
Cons:
May not be large enough for entire knife sets
$15.49 from Amazon
---
If you're looking for a rustic-inspired piece to bring into your kitchen, this eco-friendly bamboo wood strip does just the trick. This magnetic knife holder is thick enough for your most heavy-duty pieces of cutlery, making it a great pick for any home.
The 17-inch knife strip is long enough to hold an entire knife set in one sitting, making it an excellent pick for serious chefs.
Pros:
Eco-friendly wood
Powerful magnet
Long-size perfect for multiple tools
Super thick strip
Cons:
May not be best suited for compact areas
$21.99 from Amazon
---
This magnetic knife holder is extremely cost-effective without sacrificing quality. The 16-inch magnetic strip holds an impressive amount of knives and magnetic tools. Plus, the neutral look of the stainless-steel is bound to fit well in any home.
I love that this knife strip comes with simple instructions for proper installation. Overall, this is a great rack for proper kitchen organization.
Pros:
Modern look
Cost-effective model
Easy to install
Backed by included warranty
Cons:
May be a bit large for apartments
$15.99 from Amazon
---
This knife strip is extra large for maximum security. You won't have to worry about your knives falling off of this strip, as the dual-layered magnets target both the tip and base of your magnetic tools.
The 18-inch magnet bar is super sturdy and has 6 embedded hooks for added storage. Overall, this is a great pick for serious chefs who want additional space in their kitchen.
Pros:
Included hooks for non-magnetic items
Stainless steel design
Roomy 18-inch magnet strip
Powerful magnet
Cons:
Added hooks are only useful for kitchens with large tile or hanging space
$18.95 from Amazon
---
This 17-inch magnetic strip is perfect for keeping your knives organized. The bar is completely filled with magnets, making this holder super easy to set up on a variety of surfaces.
I love how the bar is made with stainless steel built for corrosion resistance, making this the perfect knife bar for busy kitchens. With its superb power and affordable price point, you can't beat this magnetic bar.
Pros:
Full magnetic power
Sleek design
Thick bar
17-inch strip
Cons:
Larger size can be limiting for smaller homes
$34.95 from Amazon
---
This wooden knife holder is as classy as they come with its finished walnut construction. The holder itself is made in USA to ensure top-notch quality. I love how strong the magnets are in this strip, making it super secure. The 12-inch bar size is perfect for apartments and small kitchens alike.
Pros:
Rustic appearance
Made in the USA
Compact size
Heavy-duty construction
Cons:
May not be large enough to hold all tools
$39.00 from Amazon
---
This classic knife holder is constructed out of walnut wood for a more rustic feel. The elegant knife organizer is 11.5 inches long and is easily installed with its dual-sided magnets. I love that this strip also comes with mounting hardware for a variety of installation options. Overall, this is an excellent wood magnetic knife strip for the price.
Pros:
Elegant Walnut wood
Smaller size
Dual-sided magnets
Included warranty
Cons:
May be limiting for some kitchens
$19.99 from Amazon
---
Are All Knives Magnetic?
You may be wondering if magnetic knife strips attract all types of knives. After all, having multiple knife types can be perfect for preparing varied dishes efficiently. Unfortunately, the short answer is no.
While most stainless steel knives will do just fine with magnetic knife strips, other metal knives that may have alloys of less magnetic elements can definitely have a weaker grip on the magnet organizer itself.
Moreover, popular knife options, like ceramic knives, for example, will not stick to magnetic knife strips. That being said, magnetic knife strips are best used for chefs who love their stainless-steel knife sets.
How Can I Tell if a Knife is Stainless Steel?
If your purchasing a knife and can't tell the difference between a steel alloy knife and a stainless steel knife, your best bet is to double-check the manufacturer's description for maximum clarity. However, if you're in a pinch, there are a couple of characteristics to look out for that can clue you in on your knife's metal content.
The biggest giveaway is the luster or shine of the knives. While stainless steel is highly reflective and shiny, mixed metals, especially carbon blends have a more dull, matte appearance.
This simple eye test works for most knives, but you have to be careful with coated tools. That being said, an easy way to test is with a magnet or magnetic knife strip. Magnets do not damage knives, but they will tell you if a knife is stainless steel. If the knife is not attracting the magnet or magnetic strip, it is likely that the knife itself is not stainless steel.
However, there is one notable exception to the rule. While most authentic grades of stainless steel are magnetic, there is a specific grade that is known not to be. If you ever see a knife's content advertised as Austenitic Stainless Steel, it is not magnetic.
For steel to attract magnets, it needs to be made with iron, not austenite. Therefore, any grade of steel without the iron base will not work with your magnetic knife organizer.
Do Magnets Damage Knives?
In short, magnets do not damage knives. However, it is important you protect your blades appropriately so that their sharpness is not affected. Improper use of a magnetic strip can easily damage blades.
Therefore, take care to remove knives from magnetic strips by twisting blades off of the strip so that only the dull blade touches the bar itself. Try to do this at a slow pace for the best results. Also, take care not to overcrowd your knives on the magnetic strip itself.
Magnets themselves do not damage knives, but any unwanted interaction with the sharp parts of the blades can.
Important Considerations While Picking Out a Knife Strip
Unlike a knife block, knife magnetic strips take out more space than the actual storage unit itself. Hence, it's important to keep a couple of factors in mind while picking out the best knife strip for your kitchen.
Height of Wall
It sounds somewhat obvious, but make sure you're taking accurate measurements of the knife strip plus your tools themselves. Knife blades can add a lot of inches to your length totals.
It's good practice to leave a couple of extra inches to give your knives room to breathe. Plus, you don't want your knives scraping the top or bottom of a surface, such as a cabinet above the strip, while taking them off or putting them back on the strip.
Number of Tools
It is very important not to overcrowd your magnetic knife strip. Not only is this a safety concern, but it could also inadvertently affect the quality of your blades. Too many tools next to each other mean that your knives are more likely to brush up against one another, which could cause long-lasting damage.
To keep your tools in top-notch shape and preserve the quality of your knives, make sure you have as little tools as possible stored on your magnetic knife strip.
Type of Mount
Knife strips have a couple of different options when it comes to mounts. You can mount your knife strip directly onto a magnetic surface like the fridge. However, not all knife strips can be mounted by their magnets alone. Instead, these magnetic knife strips are drilled into walls with mounting hardware or by hanging methods.
Most knife strips come with the needed mounting hardware, so you'll be able to put up your magnetic strip with no trouble at all regardless of what type you get.
Added Features
Magnetic knife strips come with a number of helpful features depending on the make and model. For example, some will come dual-barred or with embedded hooks for extra storage. Be sure to look out for these features to save valuable space in your kitchen.
Style Options
Magnetic knife strips are great options for a variety of homes due to their versatility. Unlike knife blocks, which are predominantly wooden, you can also get magnetic knife strips in stylish, sleek stainless steel. They are an excellent storage solution for cooks who love keeping their ornate knife collections on display.
With a variety of style options, you'll be able to find a magnetic knife strip that matches with your own sense of style.
Magnetic Knife Strip Installation Methods
You may be wondering what the best way to install a magnetic knife strip is. Luckily for you, most magnetic strips come with mounting hardware and corresponding instructions. Here are some general guidelines to get you started.
Using the Magnet / Without Drilling
Installing a magnetic knife strip without drilling is easy. First, make sure your strip is compatible during your purchase. Not all magnetic knife strips are built for holding up on their own, so it's very important you're cautious when picking out the perfect knife storage option for your needs.
Once you have a compatible magnetic knife strip, read the instructions carefully. While some strips require you to remove a sticky strip on the back, others can be used right out of the packaging.
On Tile / With Drilling
To install your strip on tile, first, make sure you have a compatible drill. If you have an ornate backsplash or another pattern, you may want to hire a professional just to protect your investment.
However, most of the time, magnetic knife strips come with all the mounting hardware you need and require minimal drilling for the job. Follow the manufacturer's instructions accordingly. For the best results, use a level to keep everything evened out properly.
Proper Use of a Magnetic Knife Strip
Magnetic knife strips are extremely useful when used properly, but it's important you pay attention to these few quick tips to keep yourself safe and your knives in tip-top shape.
Keep Surrounding Area Clear
Magnetic knife strips should be used on a rather clear portion of a counter or fridge to prevent accidents from happening. These strips will attract anything magnetic, so you could easily find things wandering to your magnetic strip.
Not to mention, unintended items scraping against the sharp side of a blade can cause unwanted dulling. For the best results, hang your strip in a wide, open area that allows your knives plenty of room to breathe.
Proper Knife Removal
Magnets themselves do not damage knives. However, improper use of a magnetic knife strip can. To keep your knives safe, follow a set procedure when removing your tools for use. Twist the desired blade towards you so that only the dull edge of the knife touches the knife strip if at all. Using this simple tip will keep your knives in tip-top shape and keep you safe.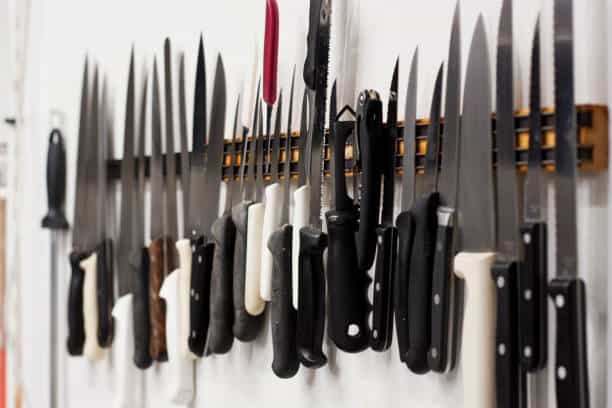 Overcrowding
Magnetic knife strips should not be overcrowded, to keep your kitchen as safe as possible. Moreover, if your knives are too packed in with each other, they could potentially affect each other's blade sharpness levels.
Maintenance
Whenever you wash your knives, make sure that they are fully dry before placing them on your magnetic strip. Not only is this important to keep your knives in the best shape possible, but it will also ensure that your magnetic knife organizer lasts for years to come.
Magnetic Knife Strip vs Knife Block
So, what's the difference between these two forms of knife storage? While both the magnetic strip and knife block have a unique set of advantages, they are both useful for storing knives in a safe, organized manner. Here are the key differences:
Surface Space
Magnetic strip and knife blocks take up different types of space. While the knife block will take up more of the counter surface area, magnetic strips will use more vertical space and need to be in a less crowded area of a counter or surface.
However, it's important to consider that while knife blocks are likely more compact length-wise, they still take up vertical space while magnetic strips take up little to no surface area. Therefore, magnetic strips make one of the best compact storage options.
Maintaining Sharpness
If used improperly, a magnetic strip can damage a knife. However, this is not due to the magnet itself, rather the stainless steel material that magnetic bars are commonly made out of. If you know how to use a magnetic strip properly, you won't have to worry about this factor.
Simply twist off the desired knife from the magnetic strip so only the blunt end of the knife hits the magnetic strip itself. As long as you stick to these parameters and work to not overcrowd your knife strip, your strip will be just as good as maintaining sharpness as a wooden knife block.
Installation
While knife blocks don't require installation most of the time, you'll likely have to install your magnetic knife strip. Luckily, most magnetic organizers come with all the hardware you'll need for installation with the purchase itself, so you won't have to go out and buy additional tools.
If you still find even minimal installation intimidating, some magnetic strips require no physical mounting whatsoever. Instead, the knife strips rely on their powerful magnets to keep them in the space of your choice. However, this option will limit you to placing your knife strip on the fridge or other compatible spaces.
Reducing Contamination
One downside to knife blocks is that there is a greater risk of contamination. While magnetic knife strips allow kitchen tools to breathe out in the open, knives that aren't fully clean or dry may fester or harbor extra bacteria inside of a knife block.
If you choose to go with a knife block, it's extra important that you pay close attention to how you clean and dry your tools. Not only will this keep your knives in tip-top shape, but you'll also be taking important steps to keep you and your family safe.
Magnetism
The greatest difference between knife blocks and magnetic knife strips is the method in which they are stored. Magnets can be super handy for storing a variety of kitchen equipment including meat thermometers and other tools. Some magnetic racks are also built with embedded hooks making for extra storage.
Safety Considerations
Each knife storage option has its own safety upsides and downfalls. While knife blocks keep blades out of sight and out of mind, they are also more likely to fall off the counter (Say, you have a dog or curious kid who likes to clear off any surface they can get their hands on).
Likewise, magnetic knives aren't perfect either— While they are super convenient for adults, the blades can be just as easy for children to grab. Make sure that if you're using a knife strip, it's out of the way of small children and anyone else deemed unsafe.
Magnetic Organization is an Excellent Option
As you can see, the magnetic organization offers a unique set of benefits compared to sturdy, traditional knife blocks. Finding the best magnetic knife strip for your home can be time-consuming, but with a little time and research, you're sure to find the perfect storage option.
From sleek stainless steel magnetic bars to rustic wooden organizers, the perfect magnetic strip for you is out there. Enjoy organizing your kitchen for the better and the time you'll save while preparing food by doing so.

Last update on 2022-12-09 at 06:59 / Affiliate links / Images from Amazon Product Advertising API. As an Amazon Associate I earn from qualifying purchases.