The Wusthof family has been making high-quality knives from its base in Solingen, Germany (known as the City of Blades) since 1814. This brand is favored by cooks worldwide, including the well-known celebrity chef, Gordon Ramsay.
If you're thinking of including these high-quality knives in your kitchen arsenal, knowing the right knives for the job is an investment well worth making. This Wusthof knife sets guide helps you check whether it suits your requirement and budget.
My Top 3 Wustof Knife Sets

Wusthof Knife Sets Guide for 2023
The choice of Wusthof knife sets available can be quite baffling, so the following guide will help you to choose the best knife set for you.
---
This sleek and stylish seven-piece set of knives is perfect for any serious cook. This set contains a paring knife, utility knife, bread knife, cooks' knife, kitchen shears, and a 15 slot walnut knife block.
Pros:
Knives look elegant
Are extremely sharp
Very easy to use
Cons:
Bread knife unfortunately breaks quite easily
Wooden block is unnecessarily large and cumbersome
Blades are not stainless steel so they require special care
from Amazon
---
Made of high carbon stainless steel, this eight-piece set includes a paring knife, utility knife, sandwich knife, bread knife, cook's knife, steel shears, and a 17 slot wooden block for easy storage.
Pros:
Textured synthetic handles give a really safe and secure grip
Knives retain their sharpness for quite some time, even with regular use
Cons:
Quite expensive for a standard kitchen set
Knife block looks quite different in person
from Amazon
---
These precision knives are made from high-quality steel with full tang triple-riveted synthetic polypropylene handles. A best seller for Wusthof, this set includes a paring knife, utility knife, bread knife, cooks' knife, hollow edge santoku, kitchen shears, and a wooden storage block.
Pros:
Great selection of knives
Easy to clean and disassemble
Great weight and easy to handle
Cons:
Wusthof sticker on the handles gives the impression of a cheaper brand
Sandwich knife tends to be rather ineffective
$495.00 from Amazon
---
This precision-forged two-piece knife set has elegant wooden handles, and the stainless steel blades have a translucent ceramic coating for extra resilience.
Pros:
Really great value for money
Very easy to use
Extremely sharp
Cons:
Quite expensive for a two-piece knife set
from Amazon
---
This high carbon set of knives includes a Spear Point paring knife, a utility knife, a serrated utility knife, a cook's knife, steel come-apart kitchen shears, and a neat 9 slot wooden storage block.
Pros:
Reasonably priced and super sharp
A good investment for amateur cooks
Cons:
Kitchen shears are not very effective
Knives tend to dull quite quickly
Block contains nine slots but only seven knives are included in the set
from Amazon
---
How Are Wusthof Knives Made?
Wusthoff knives are constructed from a single piece of chromium-molybdenum-vanadium steel. From start to finish, the knives undergo 40 different processes; some of which are automated and others are performed by hand.
The finished knife is sharpened using a laser-controlled system called PEtec (Precision Edge technology) to ensure a precision point and edge to each and every knife. Despite the number of automated systems, the Wusthoff factories in Germany employ over 300 members of staff.
What Are The Different Kinds of Wusthof Knife?
These are basically sorted into two categories which are as follows:
Forged Wusthof Knife – These are created or 'forged' from a single piece of high carbon steel and offer a superior level of sharpness and balance.


Stamped Wusthof Knife – This kind of Wusthof knife is stamped out of a sheet of stainless steel (so, it's not just a clever name!). Because this process is a simpler manufacturing procedure, these knives tend to be more affordable than the forged versions.
What Is The Best Wusthof Knife Set?
While this can be considered to be personal preference, I'd say the Wusthof Classic IKON 7 Walnut Block 7 Piece Knife Set would be on top of the list for their ergonomically balanced handles and blades.
Many professionals, including Chef Ramsay, on the other hand, consider the to be the best set of Wusthof knives. If, however, you want to follow in Gordon's footsteps, you'll need deep pockets as this set retails close to 500 bucks.
Wusthof Vs Henckels
Choosing the right knife set is all about deciding what's most important to you. When looking at a comparison between Wusthof and Henckels, Wusthof has a hardness rating of 58 compared to 56-57 for Henckels, so Wusthof knives will be harder and will hold their sharpness for longer. However, Henckels knives tend to be easier to sharpen.
How to Sharpen Your Wusthof Knife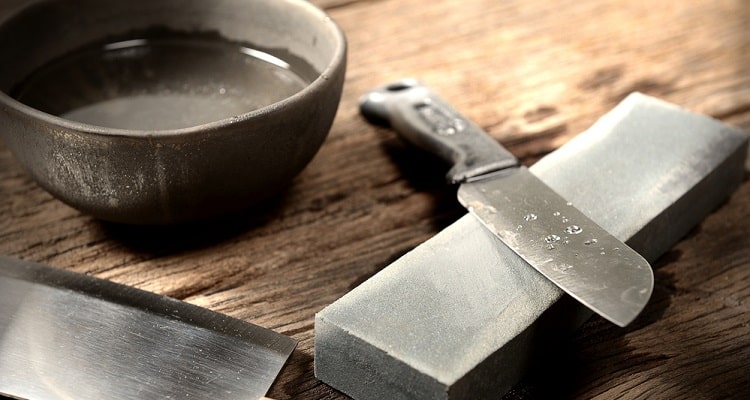 For precision quality knives, care needs to be taken. For this reason, it's best to use a whetstone or ceramic disc sharpener to keep your knives in great condition. For best results, Wusthof offers combination units for honing and sharpening knives.
Are Wusthof Knives Guaranteed for Life?
Although Wusthof knives carry a lifetime warranty against manufacturer defects, they don't actually come with a guarantee for life.
Are Wusthof Knives Worth The Money?
There's no denying that these knives come with eye-watering prices, which may be well beyond the budget of many amateur cooks. Having said that, buying a Wusthof set of knives can very much be considered an investment. These knives deliver expert craftsmanship and incredibly high quality materials. This means that, if you look after your set of knives properly, they'll last for years and years, if not an entire lifetime.
In terms of value for money, this depends on your usage. If you're an occasional cook, several hundred dollars is pretty steep for a set of knives. If, however, you're a regular and passionate cook, then these knives are a great investment.
Conclusion
Wusthof knives have the benefit of generations of experience and craftsmanship, coupled with incredibly high-quality materials. Investing in a set of Wusthof knives will almost certainly help you to up your game in the kitchen. This investment does, however, mean that you'll need to commit to caring for your knives properly if you want them to remain in great working order.
Last update on 2023-02-07 at 01:39 / Affiliate links / Images from Amazon Product Advertising API. As an Amazon Associate I earn from qualifying purchases.